Remove Cart
This change will remove all your cart products. Do you really want to continue ?

Potbelly Sandwich Shop 127 Fulton St
Retro-style counter-serve chain offering toasted sandwiches, salads, and baked g...
Copy

Copied

https://orderchekout.com/vendor/potbelly-sandwich-shop-127-fulton-st

11:00 AM – 5:00 PM

Open

Minimum order value $5.00
Menu
Pick-Your-Pair (3)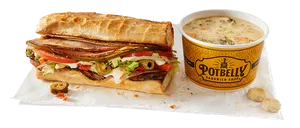 Sandwich + Soup
$10.69
Choose any skinny sandwich and cup of soup/chili/mac & cheese
---
Remove Item
Remove This Item?
Repeat last used customization
Remove Cart
You can only buy products for single vendor. Do you want to remove all your cart products to continue ?